The 2021 Subaru Love Promise Customer and Community Commitment Award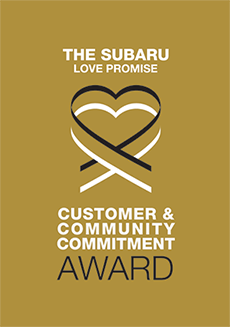 We've been nationally recognized for our dedication to our customers, our community, and the Subaru Love Promise.
We're honored to receive the 2021 Subaru Love Promise Customer and Community Commitment Award. This award nationally recognizes elite Subaru retailers who provide an exceptional customer experience at every interaction with Subaru. These retailers have also demonstrated an outstanding commitment to supporting passions and causes in their local communities in important areas such as the environment, community, health, education, and pets.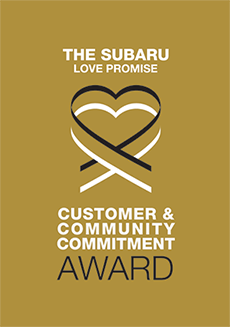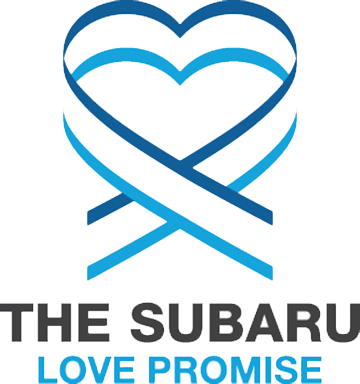 What is the Subaru Love Promise?
Subaru and our retailers believe in making the world a better place and the Subaru Love Promise is our vision of respecting all people. This is our commitment to show love and respect to our customers and to work to make a positive impact in the world.
How is Subaru Superstore of Surprise dedicated locally to the Love Promise?
Our Love Promise can be seen in various partnerships with local charities and non-profits. We're grateful for the opportunity, not only to be a part of our community, but to serve it as well.
Love Promise Stories from Subaru Superstore of Surprise
Subaru and Subaru Superstore of Surprise believe in making a positive impact on the communities in which we live and work. We uphold that belief through our Love Promise Community Commitment. Every month, we select inspiring stories from customers and partners from around our area who strive to support our collective commitment and feature them here
The model example of support for Luke AFB again!!! - Ron S
The Subaru Superstore of Surprise has done it once again and we can't tell you how great it felt to support our Military Members from Luke AFB together...once again. Due to the Pandemic it has been over 15 months since we have been able to get the partnership back together to deliver some awesomeness to our Airmen. We finally did it!!! Subaru staff team members, FCF Blue Blazer Squadron Members and other local partners joined together to put together over 400 Food & Hygiene Boxes and ship them down range to our warriors. It is through the success of the Share the Love Campaign that generates the resources which provides us the ability to execute on our mission to include the BlazerBox Care Package Program. Rudy's Country Store & BBQ came out and fed the Subaru Team, FCF Team and Blue Blazers and then we rolled up our sleeves and got to WORK!!! Mark & his Subaru Team opened up their beautiful facility and provided the perfect venue and set-up so we could rock out those 400 packages and it was fantastic. We have worked with the Subaru Superstore of Surprise for over 3 years on these programs so we truly missed the ability to engage in person and accomplished some great outcomes the enhance the quality of life for our Families at Luke AFB!!! As always...THANKS Subaru Superstore of Surprise for the inclusion and support through the Share The Love Campaign and we look forward to together continue to support the Men, Women, Famlies, and Mission of Luke AFB!!!
---
As a First Responder- safety is #1 - Courtney F
My husband (retired) and I are first responders. We have spent a combined 36 years responding to serious criminal investigations, most disturbing, children/families in vehicular collisions. We have never owned a Subaru (until now) and had many choices. We expect this 2021 Crosstrek Sport, to be our son's 1st car, he is 7. Research and real-life testimonials have helped us decide about our future vehicle! Pleasantly surprised with the pep, Mpg and overall customer service! We are happy #1 Subaru owners!
---
Thank You Subaru Superstore of Surprise! - Billie L
Dysart Education Foundation (DEF) was selected by Subaru Superstore of Surprise to receive funds from their 2020 Share the Love Event. The $25,000 check, presented to us by Mr. Mark Mauer and other Subaru officials, couldn't have come at a better time, given that many of DEF's fundraising plans had to be put on hold due to the pandemic! The funds generated during the Share the Love Event will allow DEF to fund additional scholarships for high school graduates who need scholarship assistance in order to attend college. It will also mean more teachers can receive grants to pay for innovative projects in their classrooms. Thanks so much to Subaru Superstore of Surprise for this generous donation!
---
An Amazing Partnership in Support for Luke AFB!!! - Ron S
The partnership the Subaru Superstore of Surprise has created with Fighter Country Foundation (FCF) is truly a Win - Win - Win story through the Share the Love Campaign. The funds generated through the Share the Love campaign go to support the Men, Women, Families and Mission of Luke AFB through programs and services that are geared towards Morale & Well-Being, Culture & Tradition and Mission Sustainability. There are dozens of programs that are provided within this platform, programs for Deployed Families, Deployed Airmen-Sailors-Marines, Single Parents, Luke Airman Dorm Residents, Financial Literacy, Health & Wellness and so many more. The program I always prefer to highlight is the FCF BlazerBox Care Package Program because of how it brings EVERYONE together to support our Military Members who are deployed downrange and away from their family and friends. For them to receive a little bit of love and thoughtfulness during their time away brings their Morale up in very significant ways. We know this because of the responses we get from our military members upon their return. What makes this program so unique, is who and how it gets supported. FCF hosts the BlazerBox Care Packing Party at our Subaru Superstore of Surprise location and the Food Packages and Hygiene Packages get packaged by all parties. The Subaru patrons who purchased a care and supported the Share the Love Campaign are invited, The Airmen and Families from Luke are invited and the Members and Partners from FCF are invited. "TOGETHER" we will package on average 375 boxes to get sent all over the world reminding our Airmen, Sailors & Marines deployed from Luke how much we care about them. This program is a perfect example of how to collaborate and get all parties involved to provide support for our military. COVID made it tough last year, but that hasn't deterred us, and we already have another packing party on the books at the Subaru Superstore of Surprise. If you want to be a part, you should reach out to the amazing team at Subaru Superstore of Surprise and ask how to get involved. And from FCF...Thank You so much for the continued support through the Share The Love Campaign which has raised over $93,000 for FCF through the years!!!
---
Our Daughter's Van - Cathy V
We lost our daughter in October and we had a very large wheelchair accessible van to help accommodate her needs. I posted on our local Facebook page that somebody had egged the van and how upsetting it was to me because it was my daughter's van. Mark, the general manager of the Subaru Superstore in Surprise saw my post and offered to detail our van for us. I was shocked and so grateful. I asked him do you realize how big this van is and it's black? He said they would be happy to do it and they made it shine again. I we were able to sell the van to another family that could use it for their child. So this family got it nice and shiny clean because they were so kind to us at the Subaru Superstore in Surprise. Thank you so much for your kindness.
---
Phoenix Subaru Retailers Pack Emergency Food Boxes - United Food Bank A
The employees of all the local Phoenix Subaru retailers volunteered at the United Food Bank to pack emergency food bags. It was a fun and very productive event! At the end of the shift, they packed enough to feed 770 families! The Phoenix Subaru retailers are proud to donate their time and support to such a great cause. This is just one of the ways the Subaru retailers in Arizona are giving back and being more than just car retailers! Pictured are our proud volunteers from Subaru Superstore in Surprise as well as the entire group. Thank you United Food Bank for all the great work you do!
---
Blankets for the homeless! - Jeff K
Friday morning GM Mark Mauer and two salesman came down to hand out blankets to our homies, which are now their homies! We call them homies because they are homeless but they are also our friends! As it gets colder these blankets will surely help keep them warm at night. We are so honored to be the organization that Subaru Superstore of Surprise chose to help this season. We look forward to working with them again. We are a small 501c3 working to improve the lives of the homeless people in the valley. We serve them consistently every Thursday with a meal, every Friday by doing a laundry for them, and occasionally when allowed we bring the shower trailer out for them to shower in. It's an honor getting to work with Subaru in this capacity
---
Subaru Superstore Surprise Loves to Help - St Mary's F
The Phoenix Metro Subaru Retailers and Subaru of America employees all volunteered at the St. Mary's Food bank to pack Emergency Food Boxes. It was a fun and hard-working session where we all packed over 31 pallets worth of food for those in need. Mark and Kyler worked hard putting canned foods and other snacks into the emergency boxes. Thank you, Mark and Kyler, for volunteering your time and hard work to help the people of Phoenix! This is what Makes Subaru Superstore of Surprise more than just a car retailer!
---
Anthem Pets Rescue , Adoption Event . Adam R. - Adam R
We are so grateful for Mark Mauer and the entire team at the Surprise Subaru Superstore. Anthem Pets Animal Rescue held our 3rd event at the at the store on 10/24/2020 and it was our most successfully one to date. We have 4 dog/puppy adoptions and 2 kitten adoptions. We could not thank the team enough for their continued support of our mission. We look forward to having many more events with Mark and his team. Sincerely, Adam Raley, President Anthem Pets Animal Rescue
---
Subaru of Surprise supports Luke Air Force Base - Ron S
The Subaru dealership located within the City of Surprise has become a model of support for Fighter Country Foundation and Luke Air Force Base. Luke Air Force Base is located within 5 miles of the Surprise Subaru Dealership. Over the past years, the Surprise Subaru Dealership has established a relationship with Fighter Country Foundation which supports the Men, Women, Families and Mission of Luke Air Force Base. Fighter Country Foundation (FCF) works very hard to establish "Partners", not just donors in the mission which provides programs and services geared towards Morale & Well-Being, Culture & Tradition and Mission Sustainability. FCF's programs and services range from Deployed Family Events, Financial Literacy, Health & Wellness with the purpose of enhancing the quality of life at the installation while providing the mission of training the World's Greatest Fighter Pilot while Deploying Mission Ready War-Fighters. What FCF appreciates the most about the partnership we have with Surprise Subaru is that their support towards the Airmen and their families isn't simply "a check" and "Pom Poms" of support for Luke. They get their Staff Team, Senior Leadership Team, and most importantly, their Customers involved in the action. Multiple times over the past couple years Surprise Subaru has physically hosted a Packing Party event at their dealership where the Staff Team, Senior Leadership Team, and most importantly, their Customers become a part of supporting the Deployed Airmen from Luke Air Force Base. This is the model of support FCF strives to cultivate with its partners, and Surprise Subaru has done and exceeded those expectations. Most recently there was a packing party at Surprise Subaru where over 180 care packages were packed and sent off to the Airmen from Luke who are deployed and away from home during the holidays. This wasn't the first time they have done this. Over the past two years, FCF has worked with Surprise Subaru to coordinate 3 packing party events culminating in over 750 care packages with Food and Hygiene projects for the Deployed Warriors from Luke Air Force Base. The support and engagement that Surprise Subaru brings to their Staff and Customers is that "Model of Support" that FCF will share with all about how to support an active duty military installation!!! Thank You very much to Surprise Subaru for leading by example in supporting the Men, Women, Families and Mission of Luke Air Force Base with the partnership you have established with Fighter Country Foundation!!!
---